Charles Rosa - MMA Page
Charles "Rapidinho" Rosa vs. Danny Venter 2-12-11
Watch Charles "Rapidinho" Rosa in this 155 lb Amateur turn Pro tournament called "The Rise Of A Warrior". It takes place at the Civic Center in Port St. Lucie, FL and is presented by Xtreme Cage Fights and Infuse Fight Gear.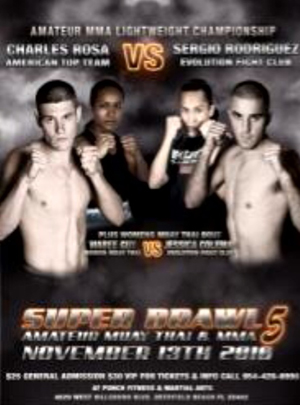 Charles Rosa - ESPN Interview
Charles "Rapidinho" Rosa Amateur MMA Debut!
Super Brawl 4 Weigh In -- Charles Rosa
Charles and Chucky Rosa warming up for the fight!
Charles -- ROUND 3
After difficult youth, Rosa finds refuge in MMA
April 28, 2010|By JASON STROMBERG
jstromberg@tribune.com
Charles Rosa's story begins with his family. Growing up, the Delray Beach resident had to deal with the loss of his two brothers, Domenic and Vincent, both of whom died of drug addiction. It wasn't easy for Rosa, who considered both siblings role models when it came to sports.
"I came down for rehab," said Rosa, who admitted to being addicted to drugs along with his siblings.
Domenic overdosed on heroin at the age of 24; Vincent did the same with morphine at the age of 20. The deaths prompted their father, Charles Rosa, to begin Chucky's Fight, a charity dedicated to battling teen substance abuse and educating youths about making healthy choices.
The younger Charles, now 23, believes he has found his source of inspiration through the American Top Team Mixed Martial Arts training center on 1790 N. Congress Ave., in Boynton Beach, and on 4301 N. Federal Highway, in Boca Raton.
"I was always interested in fighting," Rosa said. "It's been my dream, and in the back of my head. When I first came in here, I had been in fights before. Like bully fights. I was a tough kid. I had the background for it. I've always been very respectful, never tried to instigate anything. Just use self-defense. Don't be a bully."
Rosa's interest in the sport took off about a year and a half ago, when he rode his bicycle past Charles McCarthy's Boca gym and introduced himself to the 29-year-old owner and head trainer. "I fell in love with mixed martial arts instantly," Rosa said.
McCarthy was glad he did. "He's extremely dedicated and persistent," said McCarthy, who is a former Ultimate Fighting Championship middleweight title contender. "He wants it more than anyone else. If the gym was open 24 hours, he would be in here 24 hours a day."
The master instructor isn't that far off in his assessment of the 5-foot-10 Rosa, an MMA fighter in the 155-pound lightweight division. Rosa rides his bike by choice, just to stay in shape. It takes him 45 minutes to get to the Boynton location and 30 minutes to get to the Boca location during the week.
From 11 a.m. to noon on Monday, Wednesday and Friday, Rosa takes the Muay Thai class in Boynton Beach. During those same hours on Tuesday and Thursday, he heads to the Boca site and takes the exact same class. From 6:30 to 7:30 p.m. Monday through Friday, Rosa goes through grappling and jiu-jitsu training, followed by pro fight training in MMA from 7:30 to 8:30 p.m. in Boca.
"My favorite part is knowing that the harder I train, the closer I am to my goal," Rosa said. "I want to make it. Be a professional fighter. I'd say I'm a year or two away."
With a Muay Thai knockout victory and Gi and No-Gi championship wins at Florida Atlantic University, Rosa and his head grappling instructor — Matt Welch — aren't going to stop until the pupil gets there. "He's a very respectful, nice kid who works as hard as anyone I've ever seen," said the 41-year-old Welch, who resides in Boca Raton. "He's got a huge heart."
Since taking on the responsibilities of working alongside Rosa, Welch has gotten accustomed to his student's tenacity. "I like working with him," said Welch, who has been training in mixed martial arts since 1995. "He's a humble kid who doesn't get a big head. If there's something he doesn't know, he will ask. He never quits."
By adapting to each situation and task at hand, Rosa figures things out on the fly, which is hard to do from Welch's perspective. In addition, he keeps busy on weekends, working as a part-time cook at Cut 432 Steakhouse in Delray Beach.
Rosa graduated from Johnson & Wales Culinary School with an associate's degree in 2005 and is looking forward to obtaining his bachelor's degree in nutrition from the school, which is based in Providence, R.I.
"It's my hobby," Rosa said of mixed martial arts. "I want to have these goals to reach for. This really keeps me focused. When I think of my role models, I look to my coaches for guidance. I want what they have."
McCarthy said Rosa is the strongest competitor he has seen at that weight class. "He's unique," McCarthy said. "You can't put your finger on it. He's got that 'it' factor. Anything he puts his mind to, you know he's going to be exceptional."
Along with Charles, the Rosas are survived by mother Mary; sister Theresa, 21, who is an equestrian student looking to graduate this year from William Woods College in Missouri; and twin brothers Lucas and Francis, who both are into wrestling and are living in New Hampshire with their parents.
All of whom would be proud to know the younger Charles is making it on his own as an up-and-coming star in mixed martial arts.
"When I think of them, I remember what everyone has told me to do, and that is to work hard," Rosa said. "When I walk into the ring, and I'm at that point where I get scared, I think of my older brothers and it takes away the fear. At this age, if you work hard at something, you can achieve it. If you have a goal, go for it. Nothing's impossible."
For information on the American Top Team's Mixed Martial Arts training, go to http://www.boyntonmma.com or http://www.bocamma.com or call 561-733-5323 or 561-368-3111.